I've seen a theme park just last year when hubby (bf that time) brought me to Finland to introduce me to his family. I was so happy that day, finally after long years of waiting and dreaming and wishing I finally tried to ride the roller coaster which I heard and seen only in TV.
Linnanmaki is the biggest theme park in Helsinki. Hubby and I were very excited to visit it since we arrived in Finland. I can still recall the excitement and joy the first day we attempt to went there. While we were riding the tram going to the park I feel like I was a kid again.
We live in the southern part of Philippines. There, I've seen only Ferriswheel on special occassions like Fiesta but I didn't try it. There is a huge theme park in Luzon but it's very far from our place. We would need to ride a ship or an airplane to get there and my family cannot afford it.
When we arrived there hubby and me were confused why there's no people around. We tried to walk going inside to the park and we found out that the park was closed that day. It was kind of disappointing but not until my husband read in one of the paper in the park that it will be open the next day.
So we went back the next day at noon and had finally seen those rides that I never thought I would try to ride. My excitement was very high that I dragged my husband to the ticket booth right away. After that, I told him that I want to try that first roller coaster ride that I've seen. I saw the hesitation in his eyes while I'm dragging him to come with me. There's no much people yet that time so were lucky that we didn't had to wait. The excited me didn't think of anything at that moment but just try that roller coaster ride right away. Fear was the last thing in my mind.
When the roller coaster started to go up it was only then I realized what I got myself into. That moment the excitement was gone and the fear was there. And in just a second I heard myself shouting as loud as I can. I was upside down and going too fast that I'm not sure if my soul was still with me or it was left somewhere in the sky (lol). I was thankful and relieved that the ride lasted less than a minute. It was a quick one but very scary for me. I was dizzy when we were walking looking for the next possible ride. I kept on telling my husband "I made the wrong decision, Bebe. We shouldn't have ride that one".
Hubby and me decided to try one of the kiddie playhouse or something in there. And after that we decided to ride everything there since we have the ride all you can ticket except for the those two rides that we know we can't take.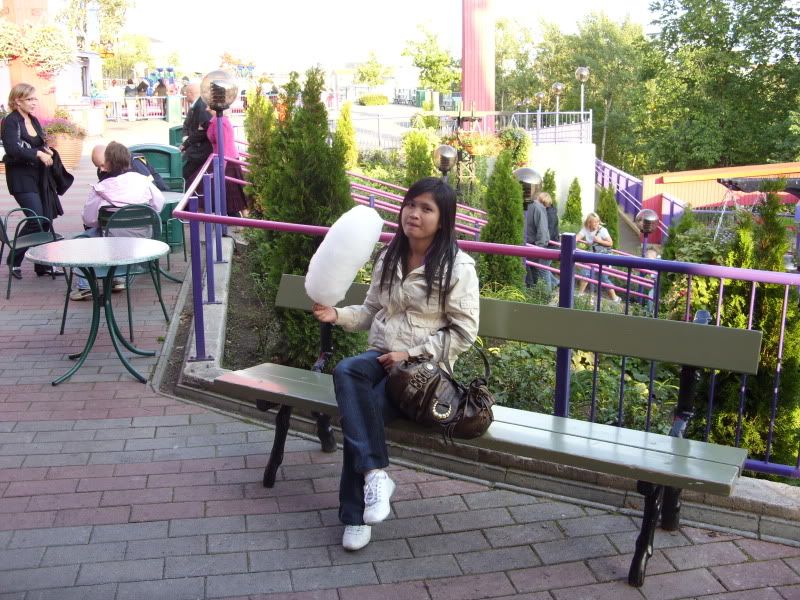 I am very thankful that I've been given the chance to fulfill one of my childhood dreams, to ride a roller coaster. I was excited, thrilled, happy, amazed, afraid, scared that day. It was a fun experience. Yes, I regretted that first ride why we went there but all in all the joy that I have inside was unexplainable. It's one of those thing's that I've been waiting for my whole life to happen and I'm glad I finally experience it. That dream come true filled the tiny space somewhere in my heart. That space was there for so long and I'm glad its gone now.